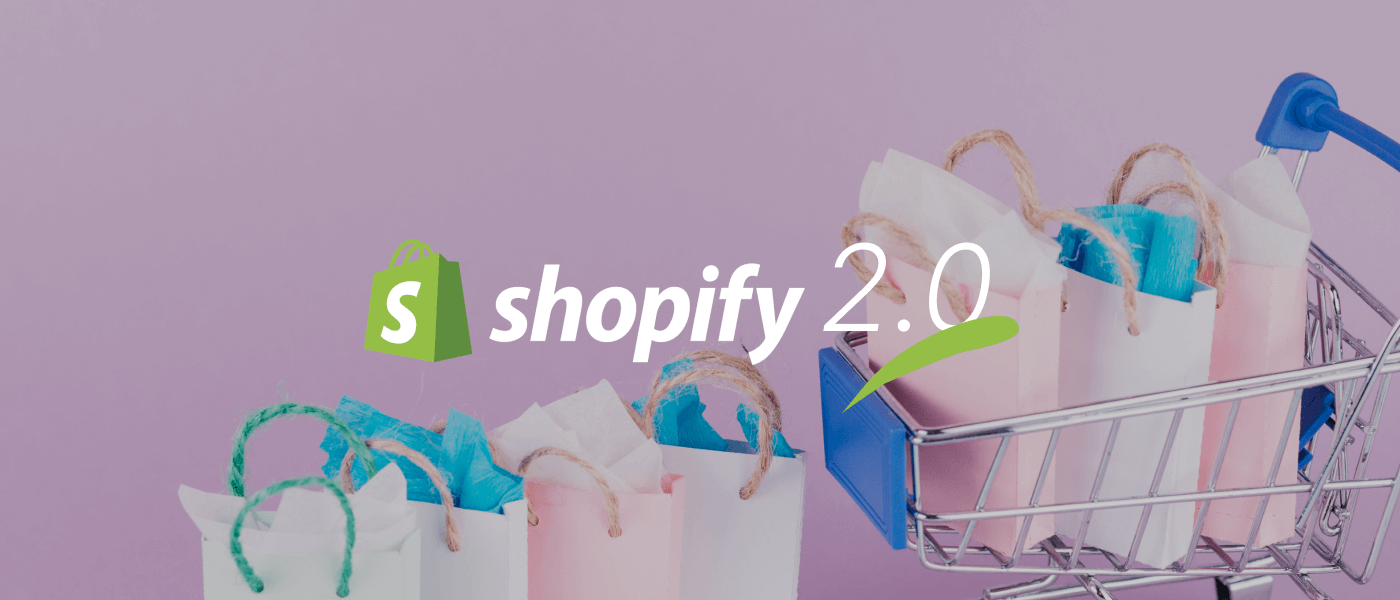 August 31, 2023
Shopify Online Store 2.0: The Future of Ecommerce. How upgrade your store 7 Free tips.
In the ever-evolving world of ecommerce, staying ahead of the competition is crucial for businesses to thrive. That's why Shopify, one of the leading ecommerce platforms, introduced Shopify Online Store 2.0. This major upgrade brings a wealth of new features and enhancements that empower merchants to create unique, personalized online stores while providing developers with the tools needed to build innovative apps and themes.
In this comprehensive guide, we'll explore the ins and outs of Shopify Online Store 2.0. From the benefits of upgrading to the new version to the exciting features it offers, we'll cover everything you need to know to make the most of this game-changing update. So, let's dive in and discover how Shopify Online Store 2.0 is revolutionizing ecommerce.
Shopify stands as a robust e-commerce platform that presents a multitude of advantages for businesses spanning various scales. Through its user-friendly interface and extensive array of features, Shopify has revolutionized the landscape of online business transactions. A significant merit of opting for Shopify is its user-friendliness. Even for those lacking a background in web development, Shopify furnishes an instinctive and uncomplicated setup procedure. This empowers entrepreneurs to promptly establish their online stores without necessitating extensive technical expertise. Furthermore, Shopify provides an extensive selection of professionally crafted templates, enabling businesses to generate visually captivating and responsive websites that align with contemporary consumer anticipations.
Moreover, Shopify furnishes a secure and dependable shopping cart solution, guaranteeing the safeguarding of customer data and transactions. By seamlessly incorporating payment gateways, customizable shipping preferences, and comprehensive inventory management, Shopify simplifies the intricacies linked with operating an online enterprise. These collective advantages render Shopify an indispensable instrument for individuals seeking to venture into the realm of e-commerce with assurance and efficiency.
Shopify's popularity as an e-commerce platform can be attributed to several key factors that contribute to its widespread adoption and success:
User-Friendly Interface: Shopify is designed with simplicity in mind. Its intuitive interface makes it easy for users with varying levels of technical expertise to set up and manage their online stores. This accessibility attracts individuals and businesses without extensive web development knowledge, enabling them to quickly establish an online presence.

Versatility and Flexibility: Shopify caters to businesses of all sizes, from small startups to large enterprises. Its extensive range of features and customizable options accommodate a wide variety of products, services, and business models. This adaptability appeals to a diverse range of industries and niches.

Professional Design Templates: Shopify offers a vast collection of professionally designed templates that are visually appealing and responsive. This enables businesses to create aesthetically pleasing online stores that align with modern design trends and user expectations, without the need for a dedicated design team.

Secure and Reliable: Security is a paramount concern in e-commerce. Shopify provides a secure infrastructure that safeguards customer data and transactions, giving customers the confidence to make purchases on the platform. This trustworthiness enhances the overall shopping experience.

Payment and Shipping Integration: Shopify seamlessly integrates with a wide array of payment gateways, making it convenient for businesses to offer multiple payment options to their customers. Additionally, its customizable shipping features and real-time shipping calculations streamline the checkout process, enhancing customer satisfaction.

App Ecosystem: Shopify has an extensive ecosystem of third-party apps and integrations that allow users to enhance their store's functionality. This versatility empowers businesses to add features and tools as their needs evolve.

Excellent Customer Support: Shopify provides reliable customer support through various channels, including email, live chat, and phone. This assistance is invaluable for users encountering technical issues or seeking guidance on optimizing their online stores.

Scalability: As businesses grow, their e-commerce needs often change. Shopify scales seamlessly, accommodating increased traffic, products, and orders without significant disruptions. This scalability ensures that businesses can continue using the platform as they expand.

Marketing and SEO Tools: Shopify offers built-in SEO tools and features that help businesses optimize their online stores for search engines, improving their visibility and attracting organic traffic. This aids in reaching a wider audience without relying solely on paid advertising.

Regular Updates and Improvements: Shopify consistently updates its platform with new features, improvements, and optimizations. This commitment to staying current and responsive to user needs contributes to its long-term relevance and popularity.
The Power of Shopify Online Store 2.0
Shopify Online Store 2.0 is not just another version; it represents a significant investment by Shopify to enhance the user experience and empower store owners. The new version introduces a range of features and improvements that make building, customizing, and maintaining an online store easier and more efficient.
1. Enhanced Theme Architecture: Unleash Your Creativity
At the core of Shopify Online Store 2.0 is an upgraded theme architecture that provides unparalleled customization options. With the new architecture, known as "Sections Everywhere," merchants can go beyond customizing just the homepage. Now, they can add sections to any page, allowing for a truly personalized experience throughout the entire site. Whether it's creating unique landing pages, customizing product pages, or optimizing collection pages, the possibilities are limitless.
2. Flexible Store Content: Tailor Your Store to Perfection
Shopify Online Store 2.0 gives merchants full control over their store's content. Improved metafields allow for the easy addition of custom information to products, collections, and customers without the need for APIs or coding. This means you can effortlessly include additional details like size charts or ingredient lists, providing valuable information to your customers. With the ability to upload and amend content quickly, you can ensure that your store stays up-to-date and engaging.
3. Advanced Theme Editor: Intuitive and User-Friendly
The updated theme editor in Shopify Online Store 2.0 offers an improved user interface, making it easier than ever to navigate and edit your store. With a clear overview of your content and a simplified hierarchy, you can effortlessly manage and update your store's design. The theme editor centralizes all functions, streamlining the process of creating a visually appealing and user-friendly online store.
4. Streamlined App Integration: More Control, Better Results
In the previous version of Shopify, integrating apps into your store could be a cumbersome process. Shopify Online Store 2.0 changes that by introducing app blocks. These modular app blocks give merchants full control over where and how apps are displayed on their store. Now, you can easily configure the placement and appearance of app blocks, maximizing their impact and ensuring a seamless user experience.
5. Developer-Friendly Tools: Empowering Innovation
Shopify Online Store 2.0 offers a range of tools and improvements to make developers' lives easier. The integration with GitHub allows for efficient version control, enabling teams to collaborate seamlessly on theme development. Additionally, the updated Shopify CLI tool simplifies the process of developing, testing, and deploying changes to your themes. With these developer-friendly tools, you can streamline your workflow and focus on creating innovative solutions for your clients.
6. Faster Load Times: Optimize Performance
Speed is a crucial factor in providing a positive user experience. Shopify Online Store 2.0 addresses this by introducing the new "Dawn" theme, which boasts a 35% improvement in load times compared to the previous default theme. Faster load times not only enhance user satisfaction but also reduce bounce rates, increasing the chances of converting visitors into customers.
7. Checkout Apps: Tailored Checkout Experience
While full checkout customization remains exclusive to Shopify Plus merchants, Shopify Online Store 2.0 now offers checkout apps for all Shopify store owners. These apps allow you to enhance the checkout experience with features like discounts and upsells, helping you drive conversions and boost revenue.
Migrating to Shopify Online Store 2.0
Now that you understand the benefits and features of Shopify Online Store 2.0, you might be wondering how to upgrade your existing store. Migrating to the new version is a straightforward process, and Shopify provides comprehensive documentation to guide you through it.
To migrate your store to Shopify Online Store 2.0, you have a few options:
Choose a New 2.0 Theme: Browse the Shopify Theme Store for a theme built specifically for Shopify Online Store 2.0. These themes are designed to take advantage of the new features and provide a seamless transition.

Update Your Current Theme: If your current theme offers an updated version compatible with Shopify Online Store 2.0, you can simply download and add the latest version to your store manually.

Migrate Your Current Theme: If you have a custom theme or prefer to migrate your existing theme to Shopify Online Store 2.0, you can follow the migration guide provided by Shopify. This process involves converting your Liquid templates into JSON templates and organizing your content into sections.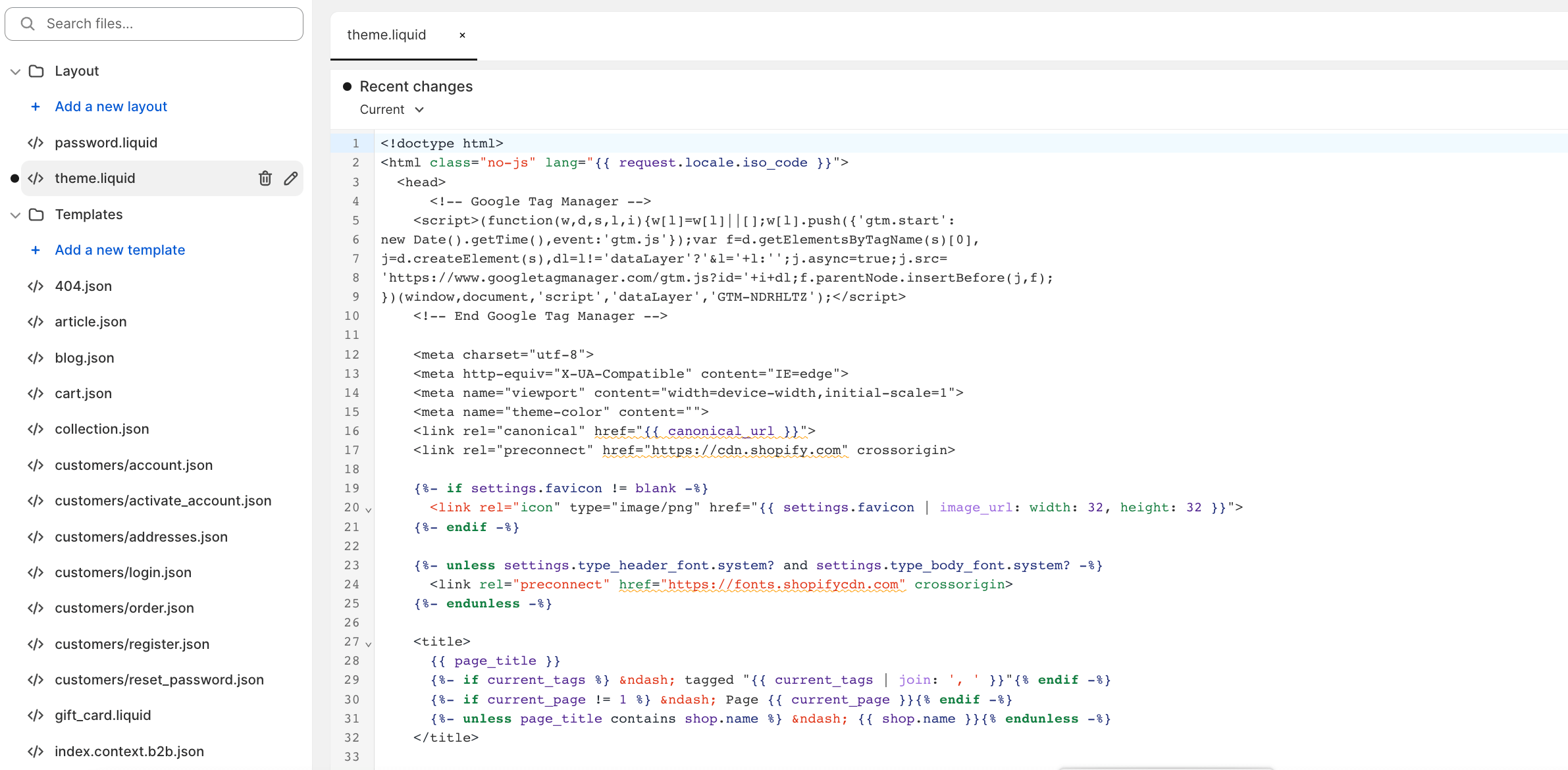 If you're unsure about the best approach for your store or need assistance with the migration process, consider reaching out to Shopify Experts or development agencies specializing in Shopify. They can offer expert guidance and support to ensure a smooth and successful transition to Shopify Online Store 2.0.
Quicker Load Times with the 'Dawn' Theme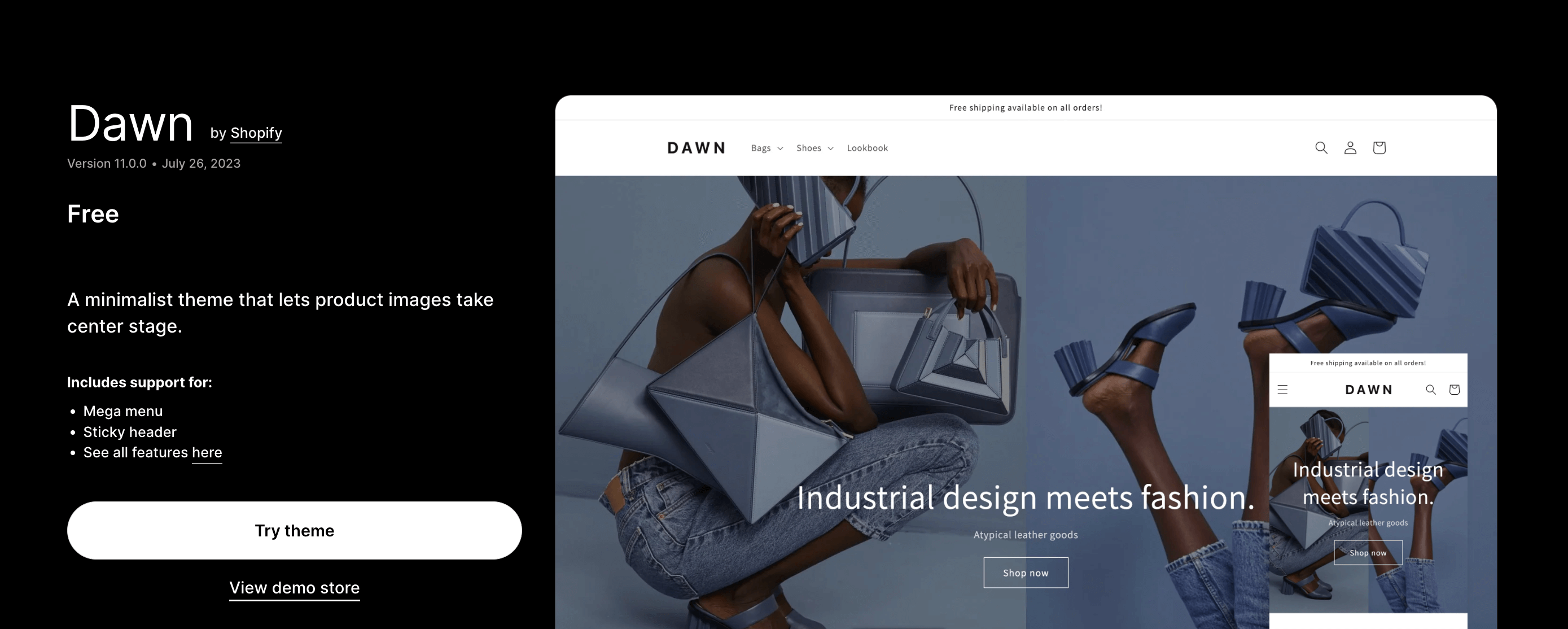 One of the standout improvements in Shopify Online Store 2.0 is the introduction of the 'Dawn' theme. This new standard for storefront theme development offers significant advantages in terms of speed and performance. Compared to the previous default theme, 'Debut,' the 'Dawn' theme boasts a 35% increase in speed. This speed enhancement is crucial for providing a seamless user experience and reducing bounce rates. Studies have shown that even a one-second delay in page load time can lead to a 32% increase in the probability of visitors leaving the site. With the 'Dawn' theme, Shopify merchants can expect faster load times, resulting in improved customer engagement and increased conversions.
Sections on All Pages for Enhanced Customization
Shopify Online Store 2.0 introduces a revolutionary feature called "Sections Everywhere." In the previous version, sections were limited to the homepage, restricting merchants' ability to customize other pages. However, with Shopify 2.0, sections are now available on all pages, allowing for unparalleled customization and personalization. Merchants can create unique experiences for their customers by adding custom sections such as promotional banners, collection sections, and tailored product page elements. This flexibility enables merchants to optimize their online stores for better user experience and higher sales.
The incorporation of sections on all pages also streamlines the scaling of branded content across the entire store. Instead of resorting to cumbersome page builder tools, merchants can now reuse sections and maintain brand consistency effortlessly. This feature empowers merchants to create visually stunning and engaging landing pages, enhancing their marketing campaigns' effectiveness.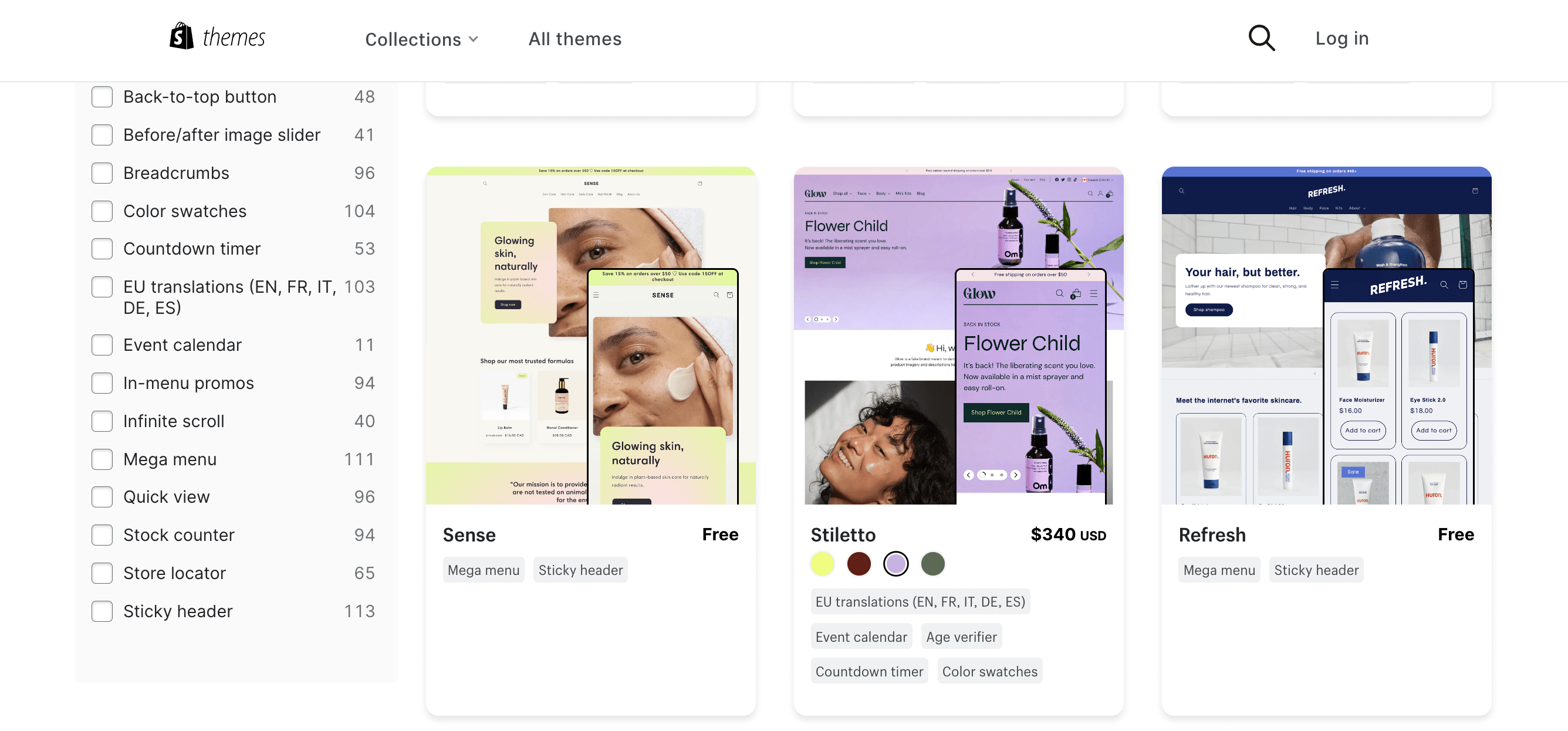 Improved Theme Editor for Enhanced User Experience
The theme editor is a fundamental tool for merchants to design and customize their Shopify stores. With Shopify Online Store 2.0, the theme editor has undergone significant improvements, resulting in a more intuitive and user-friendly interface. The updated version provides a clearer overview of the store's content hierarchy, making it easier for merchants to navigate and make changes. The improved theme editor centralizes all functions, simplifying the process of updating and modifying the store. Merchants can now save valuable time as they effortlessly edit and fine-tune their Shopify stores to align with their brand identity and customer preferences.
Modular App Blocks for Enhanced Configuration
App integration has always been a crucial aspect of Shopify's ecosystem. With Shopify Online Store 2.0, the integration of apps has been revolutionized through the introduction of modular app blocks. In the previous version, app integration was rigid and often limited merchants' ability to deploy apps optimally. However, with Online Store 2.0, apps are delivered as blocks on pages, granting merchants full control over where and how these app blocks are displayed. This enhancement enables merchants to personalize their Shopify stores further, configuring app placements to maximize their benefits. The modular app blocks feature empowers merchants to create unique and tailored experiences for their customers, ultimately driving conversions and customer satisfaction.
Improved Developer Tools for Enhanced Efficiency
Shopify Online Store 2.0 not only benefits merchants but also provides developers with improved tools and functionalities. The update includes enhancements to Shopify's coding language, Liquid, resulting in faster and more efficient development processes. Developers can now add Liquid code directly through the theme editor, simplifying the development workflow and saving time. Additionally, Shopify's integration with GitHub allows developers to seamlessly manage version control and collaborate on projects. The improved developer tools ensure a smoother and more efficient development experience, enabling developers to deliver high-quality customizations and enhancements for merchants.
Checkout Apps for Enhanced Conversion Opportunities
Previously, checkout customization options were limited to Shopify Plus merchants. However, with Shopify Online Store 2.0, even merchants on the standard Shopify plan gain access to checkout apps. This update opens up new opportunities for merchants to enhance their checkout process and drive conversions. By leveraging checkout apps, merchants can implement discounts, upsells, and other strategies to incentivize customers to complete their purchases. The ability to tailor the checkout experience can significantly impact conversion rates and boost overall revenue for Shopify merchants.
Enhanced Metafields for Greater Store Flexibility
Metafields play a crucial role in adding additional data and information to Shopify stores. In Shopify Online Store 2.0, metafields receive substantial improvements, providing merchants with greater flexibility and customization options. Previously, incorporating metafields into themes required coding and API integration. However, with Online Store 2.0, merchants can easily add and manage metafields without the need for complex coding or reliance on external APIs. This streamlined metafield functionality enables merchants to enrich their product pages with custom information, such as size charts, ingredient lists, or additional specifications. The enhanced metafields feature empowers merchants to tailor their store's content to meet specific customer needs, resulting in a more personalized and engaging shopping experience.
Migrating to Shopify Online Store 2.0: The Path to Success
Now that we've explored the remarkable features and benefits of Shopify Online Store 2.0, let's discuss the importance of migrating to this new version. Migrating to Shopify Online Store 2.0 is more than just an upgrade; it is a strategic move that can significantly impact a merchant's success. By embracing the new features and functionalities of Online Store 2.0, merchants gain a competitive edge in the ever-evolving ecommerce landscape.
Migrating to Shopify Online Store 2.0 enables merchants to unlock the full potential of their online stores by leveraging advanced customization options, improved performance, and enhanced user experience. The ability to personalize every aspect of the store, from sections on all pages to metafield customization, empowers merchants to create unique brand experiences that resonate with their target audience.
Furthermore, migrating to Shopify Online Store 2.0 ensures compatibility with future updates and features released by Shopify. By staying up to date with the latest version, merchants can take advantage of new functionalities and innovations as they become available.
Migrating to Shopify Online Store 2.0 may seem like a complex process, but with the right guidance and support, it can be seamless and hassle-free. Shopify provides comprehensive documentation and resources to assist merchants in the migration process. Additionally, working with a Shopify Expert or development agency experienced in migrations can ensure a smooth transition, minimizing any potential disruptions to the store's operations.
Conclusion
Shopify Online Store 2.0 marks a significant milestone in the evolution of ecommerce. With its array of new features and enhancements, this update empowers merchants to create exceptional online stores that differentiate their brands and drive success. From enhanced customization options to improved performance and developer tools, Shopify Online Store 2.0 offers a comprehensive solution for merchants looking to thrive in the competitive ecommerce landscape.
Incorporating the 'Dawn' theme, sections on all pages, an improved theme editor, modular app blocks, and enhanced metafields, Shopify Online Store 2.0 equips merchants with the tools they need to create engaging, personalized shopping experiences. Migrating to this new version is a strategic move that ensures compatibility with future updates and positions merchants for long-term success.
As the ecommerce industry continues to evolve, Shopify remains at the forefront, pushing the boundaries of innovation and empowering merchants to achieve their goals. By embracing Shopify Online Store 2.0, merchants can take their businesses to new heights, delivering exceptional shopping experiences and driving sustainable growth.
So, don't wait any longer. Upgrade your store to Shopify Online Store 2.0 and unlock the limitless possibilities it offers. Whether you're a merchant looking to create a standout online store or a developer eager to innovate, Shopify Online Store 2.0 is the future of ecommerce.
Contact Us To Discuss Migration