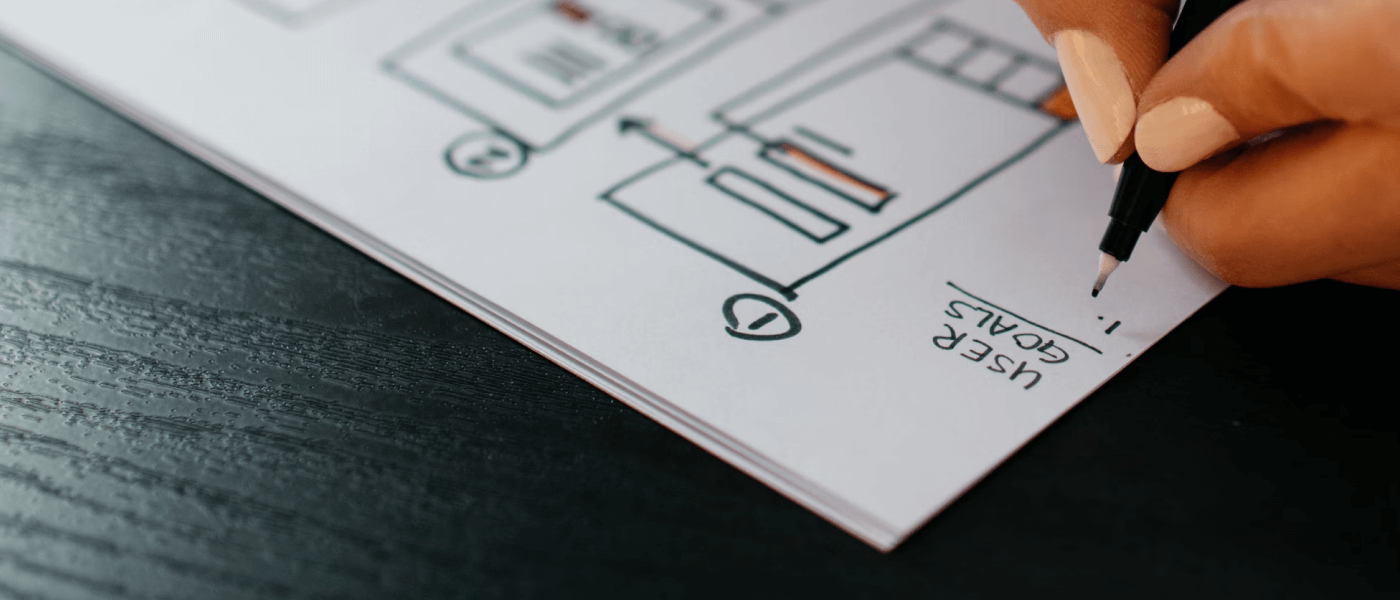 February 03, 2022
How can I create a design for a Shopify store? Features and tips.
In this article we want to talk about some points related to design for a Shopify store. The material will be of interest to Shopify store owners (or future owners) and designers who have not previously worked with this platform. Correctly organized design saves time spent on web development and money spent by the store owner. First of all it should be understood that Beautiful design helps to sell. Well, let's get started!
Ways to visually design for a Shopify store
There are two ways to design visual content for a Shopify store:
Custom Design  —  the store owner hires a designer or design team (usually with a team of developers and testers) and based on the experience of the team together create a design that will bring maximum conversion;
Shopify themes  —  store of complete design solutions, the owner can choose a theme that best suits his business and buy it. In this case, adding any changes to the design or functionality increases the budget of the project. To customize the theme/add product owner may need a web developer.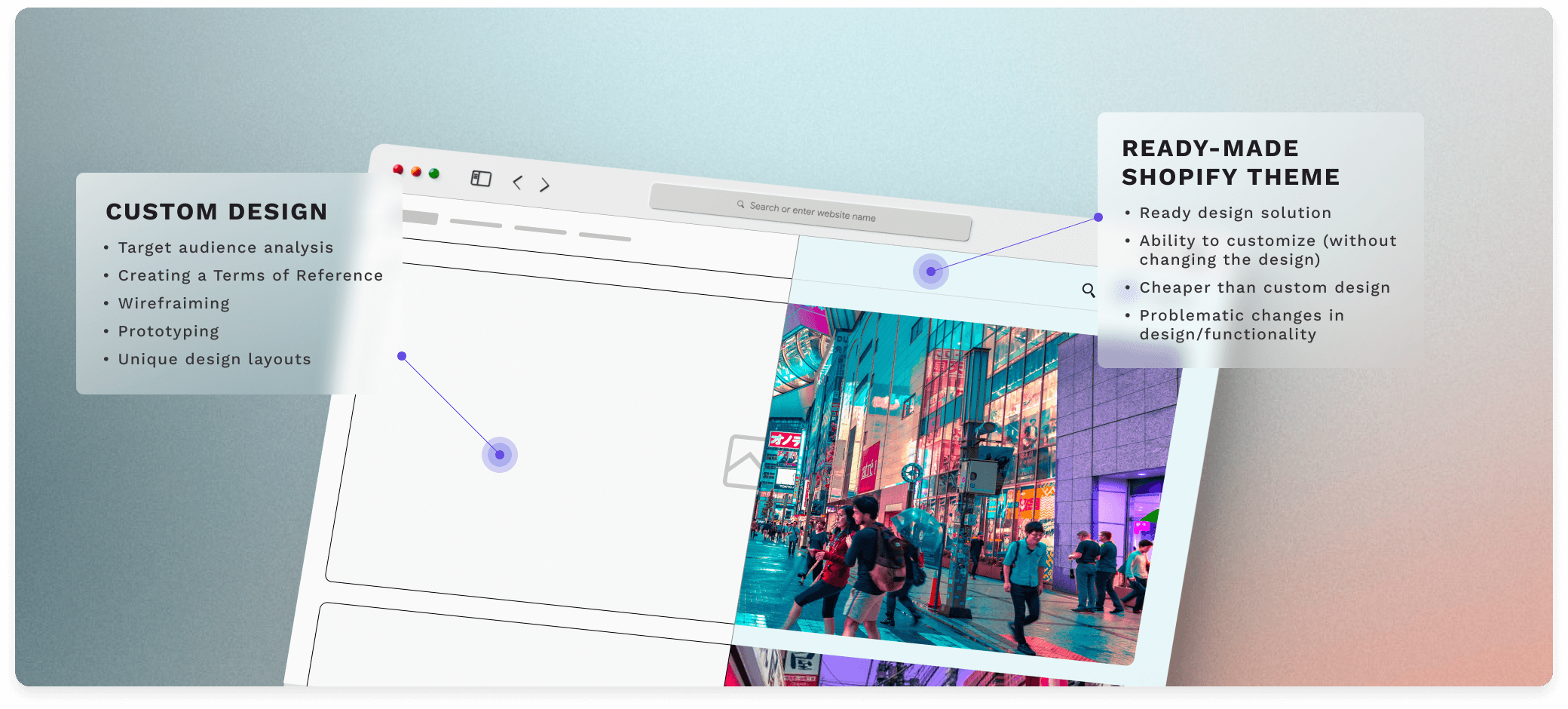 The future owner of the Shopify store will have a question — whether to hire a designer or use a ready-made theme that can be purchased from the Shopify store. There is no definite answer to this question, it all depends on the goals and objectives of the owner of the store.
If the store has no specific functionality (cart upsell, progress bar, additional application etc) and the visual component is not particularly important to the owner, it's better to buy a ready-made theme. But if the owner wants to emphasize its brand with a unique website design and there are many additional features that he wants to see on his site it is certainly better to hire a professional team.
So what is more profitable? In our opinion, the best solution is to hire an agency, who develops Shopify stores and in a short time (2–3 months) completely finish the project with all the necessary features and a unique design, which will increase the conversion rate for your store.
Custom design for a Shopify store and basic structure
The choice of a graphic editor for creating a Shopify store has no effect on the final design. To achieve this goal, the designer can choose any tool convenient for him/her. Based on the feedback we have received from our clients, our company decided to use one of the most popular tools today — Figma. This is due to the convenient commenting system and accessibility (Figma provides a free plan).
So, the designer has defined the goals and objectives that the future commercial project will have to perform and moved on to the stage of creating the terms of reference. The first question the specialist will have — what is the overall structure of the basic Shopify store? Our company recommends using the structure of the main and additional pages: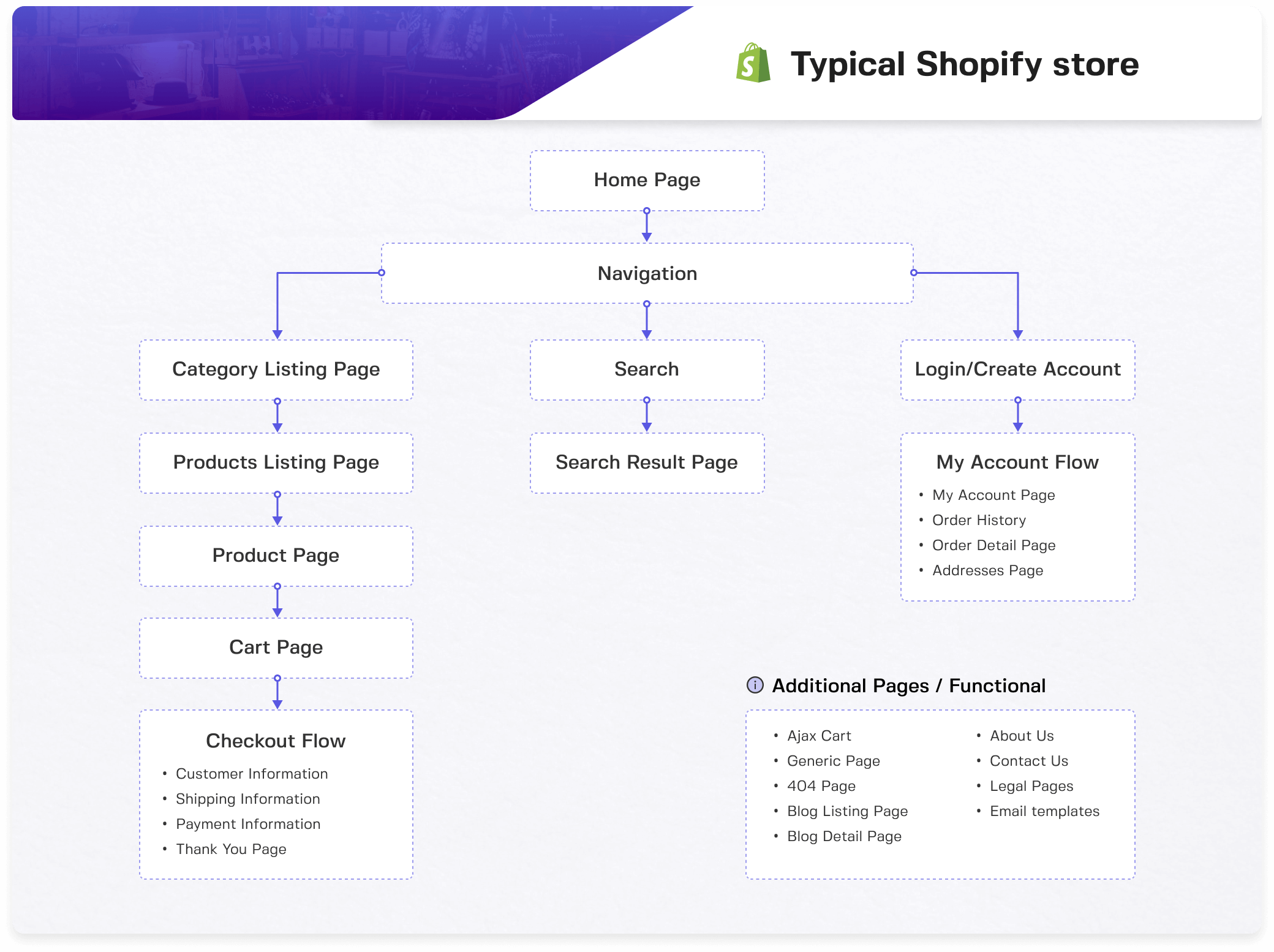 As we can see, the scheme is not much different from a typical online store, whether it's Shopify, Magento, or another platform. But there are a few nuances that a designer should take into account when creating design layouts.
Adding less = saving more
If we're talking about custom design then most of the pages the designer can do at his discretion without any restrictions. But there are two pages which structure
is recommended not to change, because it can increase the development budget.
My Account
My Account has its own structure (see picture bellow) and if the designer adds extra fields or functionality it will have a negative effect on the time spent on web development.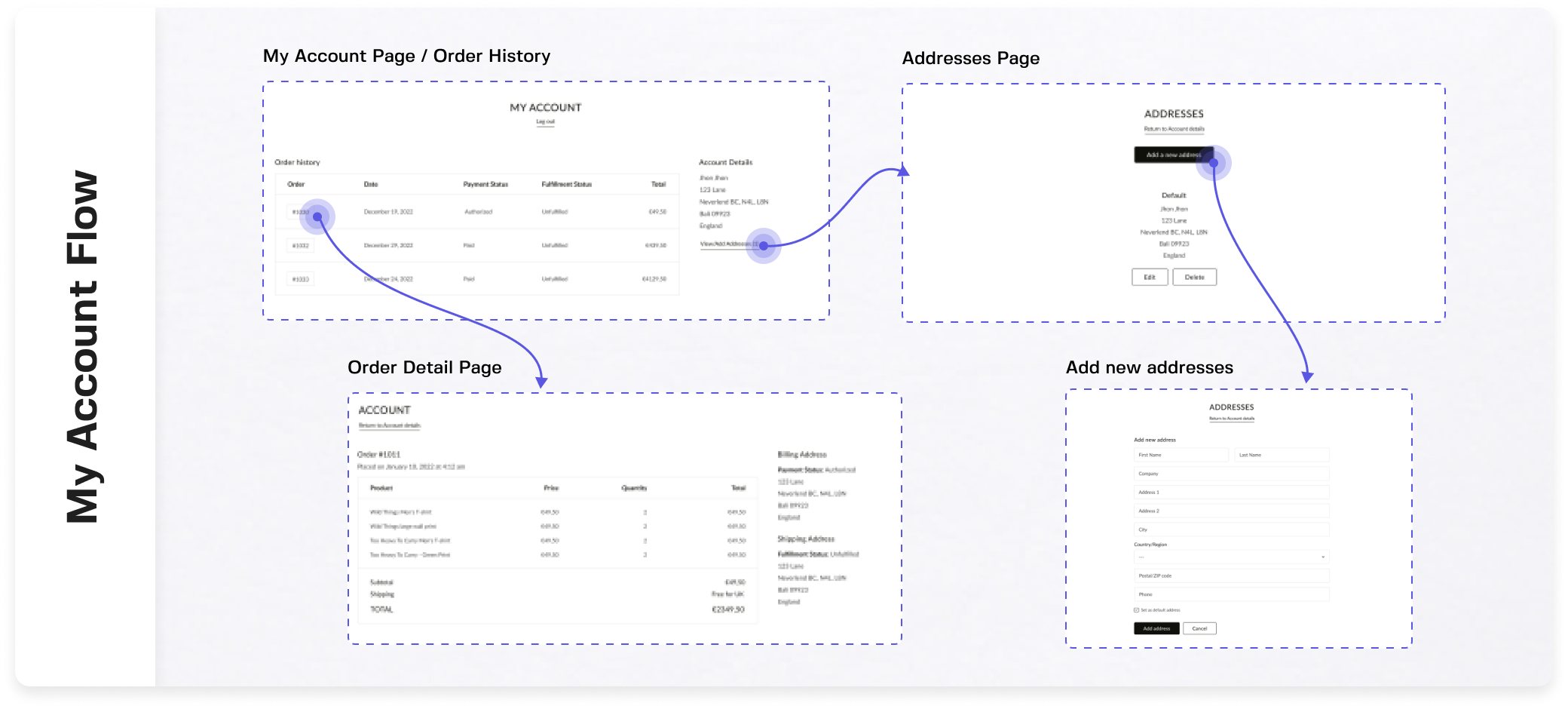 Using basic structure you can make easy to use My Account pages: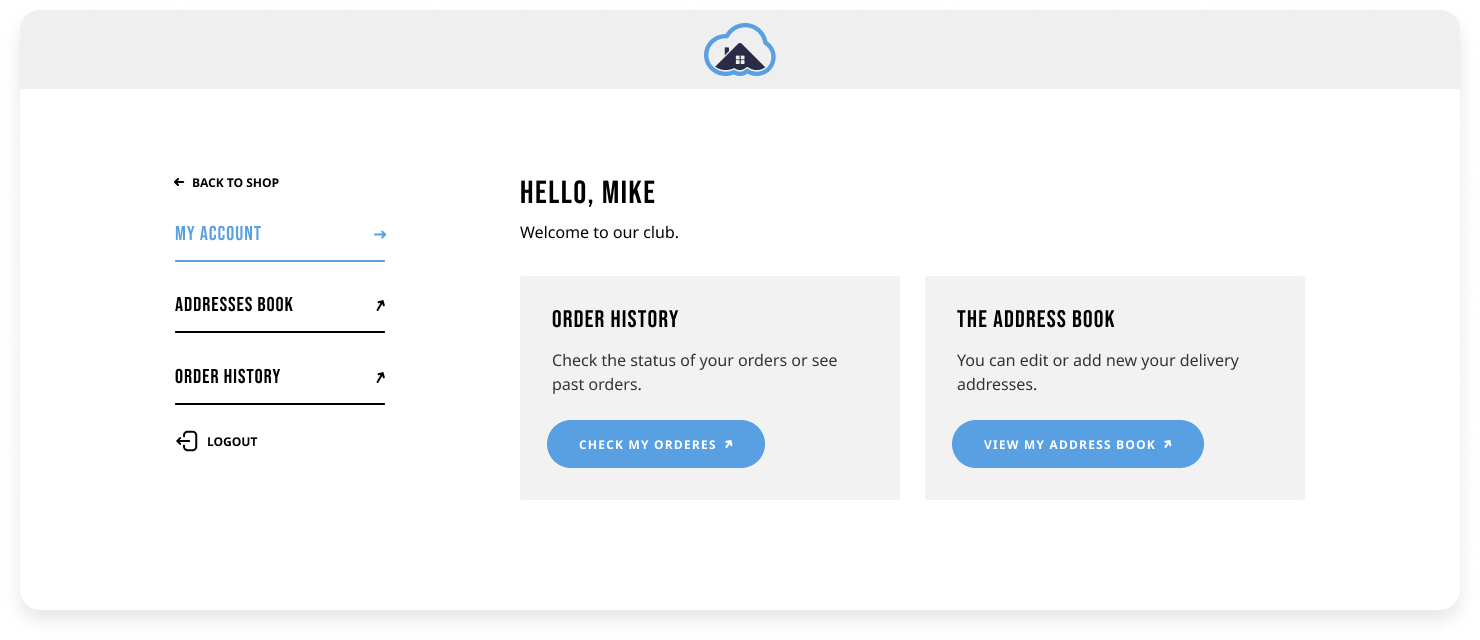 Checkout Page
Only owners of stores with the "Shopify Plus" plan can change the visual appearance of the standard Checkout Page. The designer should not break the structure of this page, as it will cause a lot of problems for both developers and the store owner.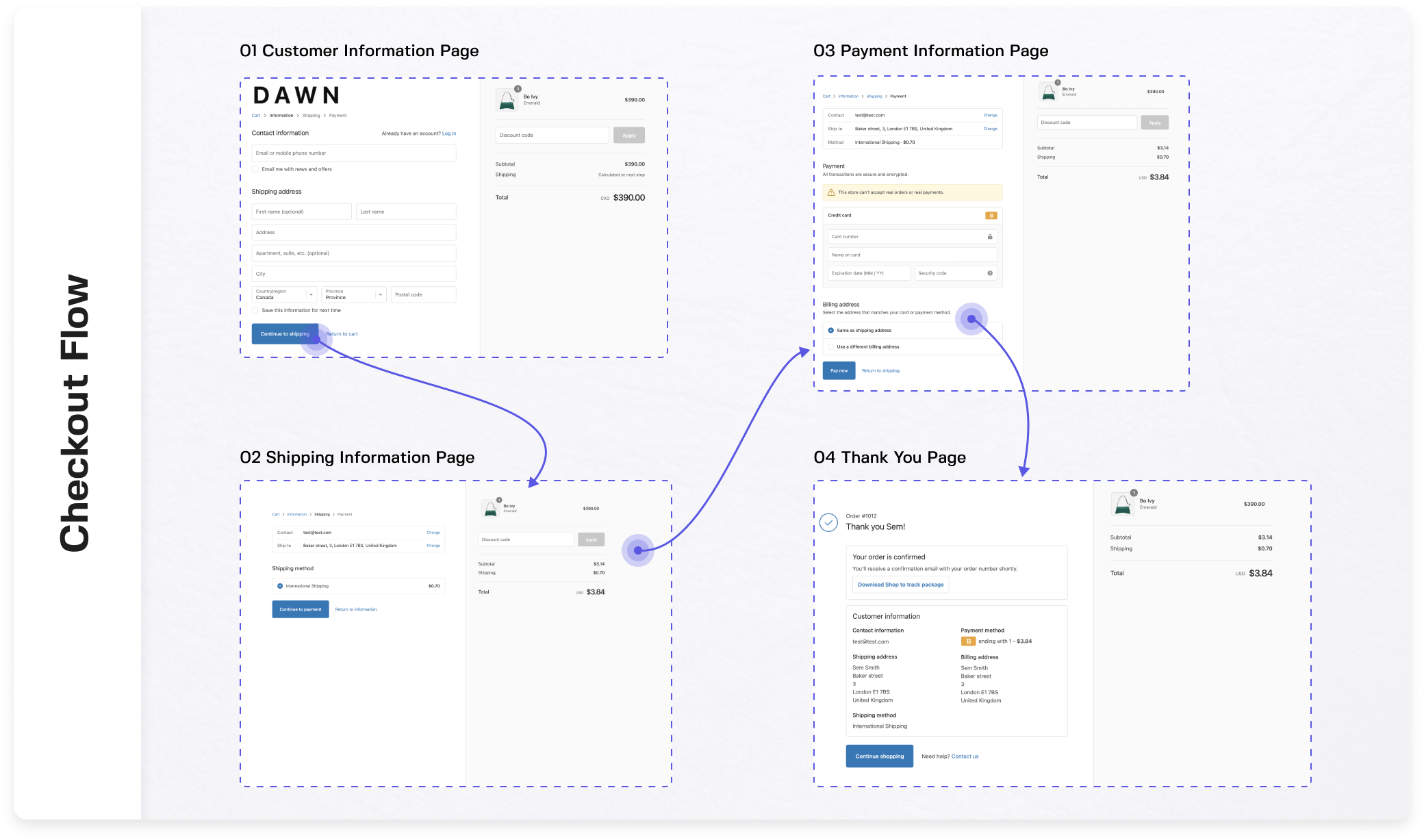 As you can see, this is a fairly complex page with steps for making a purchase. The designer should design these steps intelligently and try not to add new functionality or fields.
Professional design will increase the conversion rate of your store
It is best to go to an agency and hire a team that has extensive experience with the Shopify platform, they know all the pitfalls that may arise during development. Specialists will save you a lot of time and money. Our team includes designers who know the entire Shopify structure and know exactly what needs to be done to increase sales.
Mgroup will be happy to advise you and calculate the project budget in a short time.
Thank you for reading our material, stay tuned.