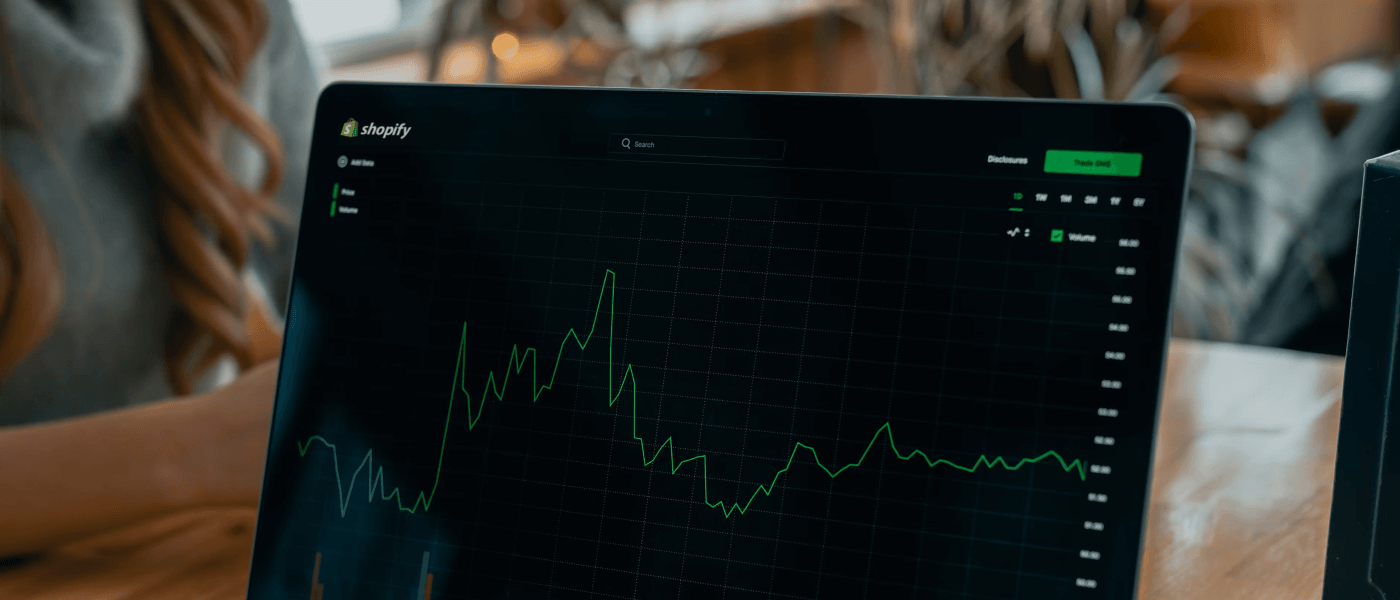 January 21, 2022
Why it is the best time to Invest in Shopify?
Invest in Shopify. Shopify is a leading global commerce company founded in 2006 by Tobias Lütke and Scott Lake with ​​headquarter in Ottawa, Ontario.
During these 16 years from an unknown platform made for just 1 store, it transformed into a multinational corporation with about 7,000 employees. 
The main goal of the company is:

There are 1.5 million merchants based on Shopify. The number is impressive, isn't it?
The development of each of these stores is a guarantee that Shopify will only grow and become more and more popular in the upcoming years. From our recent experience, we know that the most famous and popular brands from high fashion, for example, go to Shopify for opening their web-stores based on Shopify Headless solution. Smart, client-oriented and growing. What can be more suitable to invest in?
As the result of wise growth and potential to become more popular, Shopify's first initial public offering occurred on May 20, 2015. Their stock began trading on the New York and Toronto stock exchanges on May 21, 2015. The IPO closed on May 27, 2015.
Here is a chart showing the history of Shopify's stocks price growth.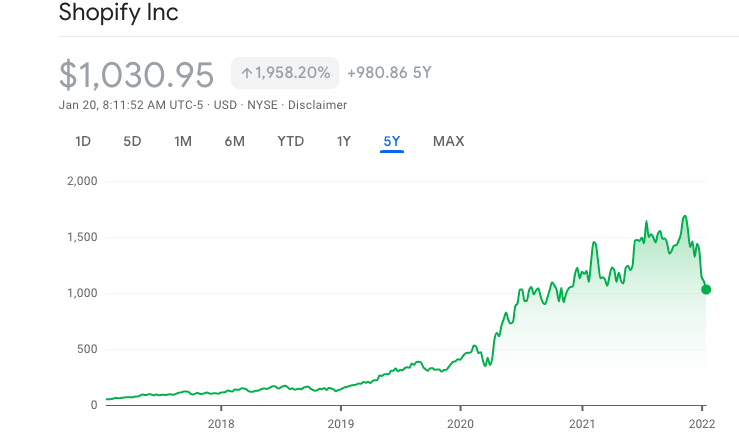 Why now is the best time to invest in Shopify in our perspective?
Shopify stock has gotten hit hard during the recent tech selloff. Shopify has come under market fire as the stock has sold off 40% from high. In short, it's just a market rotation of funds. William Blair analyst Matthew Pfau says it's a good buying opportunity but be patient.
With the 10-year increase, Shopify Stock signifies stronger economic activity and rising inflation expectations. The issue for growth companies like Shopify is that as rates go up, it means future predicted earnings are worth less today than they were previously. Some tech names are losing money in the short term, others are already profitable (Shopify), but they are all investing in today with hopes of bigger profits down the road.
Economic experts confirm that the issues the company faces is meeting the bar that was set in 2020/2021, in large part thanks to COVID. But even without that, you're looking at a company that is going to grow EBITDA by at least 30%+ beyond 2022. We should see growth this year, but not as much due to the two years of COVID the company benefited from.
Why you shouldn't worry about Shopify? It is well-positioned in the market, and the business model is absolutely amazing. The company is reaching market share at an incredible rate as they are the company with the most market share in U.S Retail Ecommerce Sales outside of Amazon, and the gap is reducing.
However, the same experts warn us that there could be a further downside: the stock trades at a lofty valuation at 24 times, even if that's already down from the bank's 36 times estimate.
Other risks include a further compression of multiples in the SaaS space, e-commerce growth coming in below analyst expectations of low teens over the next several years, and Omicron potentially creating a near-term headwind to e-commerce sales.
"Although hard to call where the near-term bottom is, and the stock is still not inexpensive by any means, over the long term we believe Shopify should be able to maintain a premium valuation given its growth prospects, great execution, and dominance in the e-commerce software SaaS space," 
Pfau wrote.
Wrap-Up
As you can see, what's happening with Shopify is beyond their control at this point. Nothing has changed fundamentally with the stock. We do think the stock will rebound, but we are not in the business of trying to guess bottoms. Shopify is a great company with great growth coming down the pipe. Be patient and wait for a good entry. This is a great opportunity.
This information is relevant for you if your are an investor, but you can also earn money by making business on Shopify and these investments will return even quicker. To learn more about starting business at Shopify, feel free to contact our company!