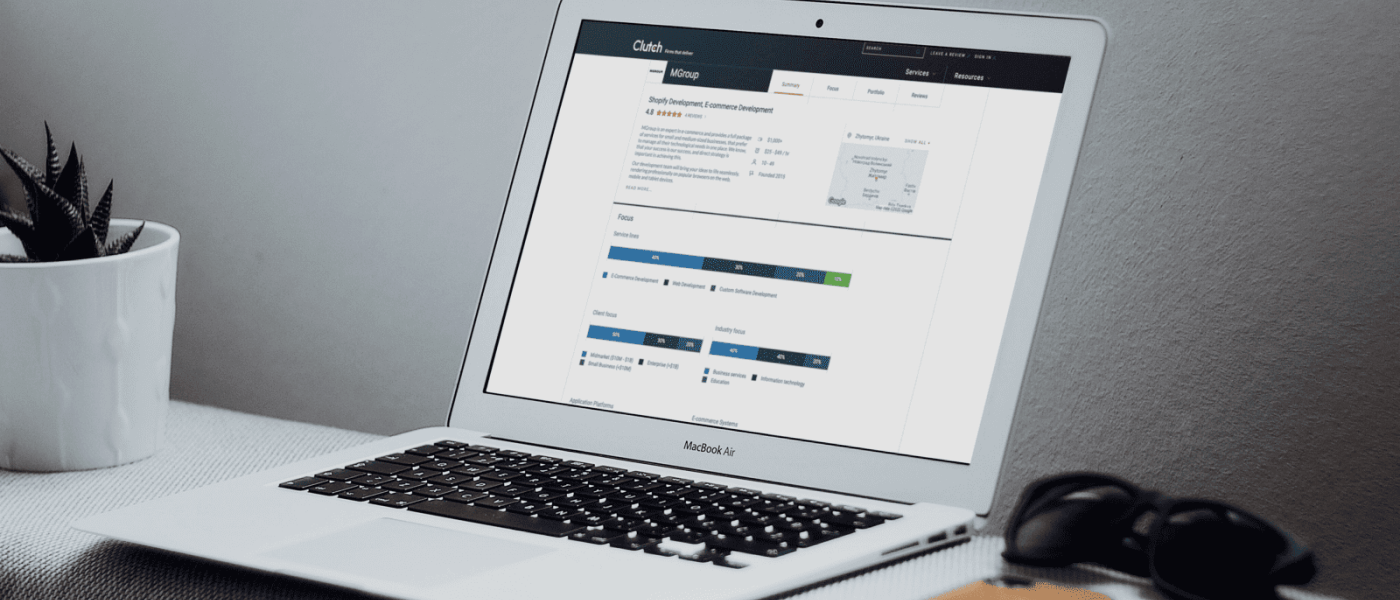 December 22, 2020
Mgroup named Top Developer on Ranking Site, Clutch
Mgroup Top Shopify Development company. Our team at Mgroup is comprised of top shopify developers, web design, QA specialists, graphic design and e-commerce experts who develop sites, applications and help to promote businesses.
Since 2015 we have had the honor to develop sites and stores for a countless numbers of businesses. We believe that this is essential in order to make business in 20th century. In order to be competitive and have sales driven solutions you must take sources to create the space where your customer feels comfortable to know more about your product and services, choose the best among them and use your business. But how business owners would make it themself?
We are the company who had made it for e-commerce, hr, IT, healthcare and other fields for a thousand times. We know how to create user-friendly and business oriented website for any company. That is why making partnership with Mgroup (Top Shopify Development company) is your best decision. While you keep working with your clients, we work on your future growth, by developing best IT-solution for you. Our collaborative approach works to bring your vision alive and our cultivated partnerships are viewed by our team as if we are a part of your business.
Our impressive track record for developing amazing sites and applications for our clients has earned Mgroup as position among the top developers from Ukraine in Clutch's 2020 report. Being recognized by Clutch in such massive category is so meaningful to our business. The businesses that we get connected to via the Clutch website are simply amazing–the fit is perfect for every lead we get and help to grow our business.
Clutch is a B2B ratings and reviews platform based in Washington, DC. It is a platform of in-depth client reviews, data-driven content, and vetted market leaders. Their review process is reliable and transparent, and we're grateful to those of our clients who have taken the time to provide feedback. We believe that our job is not complete until our client has been left completely satisfied. Our team always delivers and our profile on Clutch can vouch for that statement. We are proud and feel immensely accomplished that we have verified reviews on our profile.
The best fact about Clutch review process is that client provide deep analysis of cooperation with us and clear understanding of advantages and challenges if there are any. We consider Clutch publishes reviews to be not only important to potential clients to gain an understanding of our work style, but they play a vital role in our feedback loop that we use to improve our services. It helps to improve our customer relations, communication, and internal processes.
Mgroup Top Shopify Development company. We are so excited to get such award!
We really worked hard to become TOP B2B developers in Ukraine ((Top Shopify Development company)) by Clutch and this status is a good trophy which inspire us for the next achievements! Our company is eager to develop our profiles and leverage reviews in order to continue improving our services. Feel free to browse our profile, drop us a line, or leave a review! Our team is always looking for more ways to improve and provide the best possible web development services to our clients. We are very proud of our team work, efforts and continual drive towards innovation of each our our teams` members.
On behalf of the whole team of Mgroup., we would like to thank all of the people and companies who have contributed to growing our company into the successful business that it is today! Our team tries to work just for you. We are happy to help everyone who turns to us.