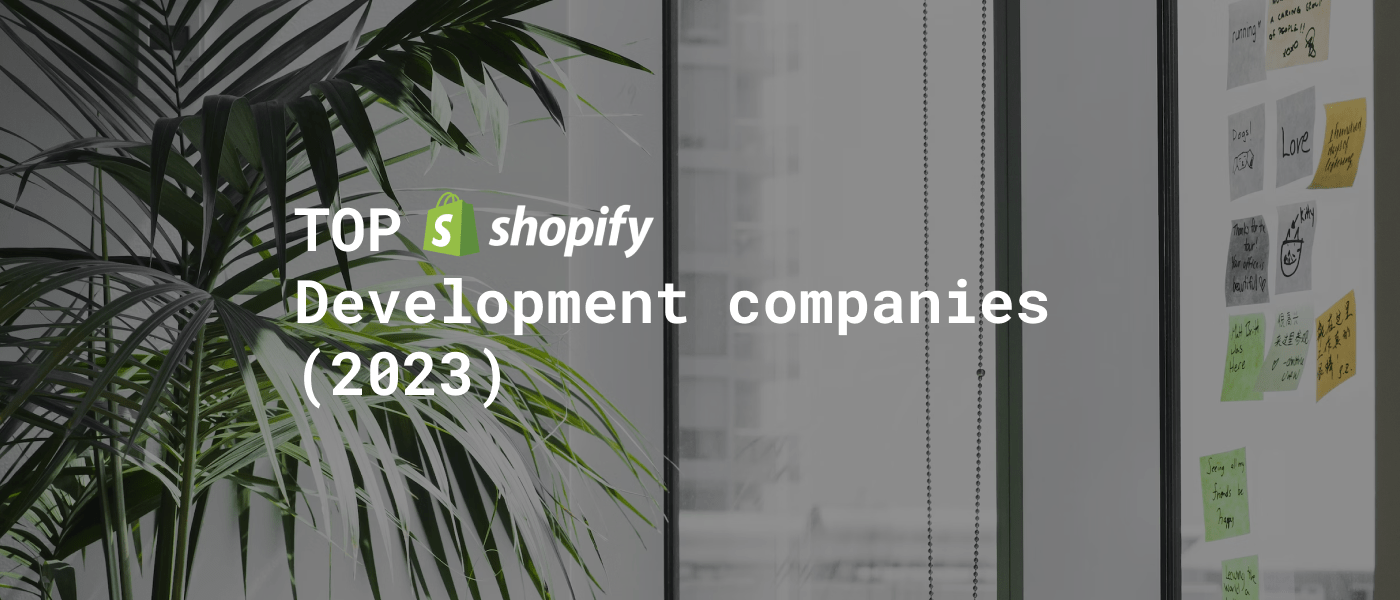 October 04, 2023
The 10 Best Shopify Development Companies in USA
Shopify has emerged as a leading e-commerce platform, empowering businesses of all sizes to create stunning online stores. However, not every business owner has the technical expertise or time to build and maintain a Shopify store on their own. This is where the best Shopify development companies in USA come into play. These companies specialize in providing professional services to help businesses design, develop, and optimize their Shopify stores.
Why Choose a Shopify Development Company?
Hiring a Shopify development company offers several advantages over building a Shopify store independently. Firstly, these companies have a team of experienced developers who possess in-depth knowledge of the Shopify platform. They can leverage their expertise to create a visually appealing and functional store that aligns with your brand. Additionally, Shopify development companies can save you valuable time and effort by handling technical aspects such as coding, security, and maintenance.
Choosing a Shopify development company offers numerous benefits for businesses. Firstly, these companies have a team of skilled professionals who are well-versed in Shopify's features and functionalities. They can provide expert guidance and tailor the platform to meet specific business needs. Additionally, Shopify development companies have experience working with various industries and can offer valuable insights and best practices to enhance the online store's performance.
Furthermore, partnering with a Shopify development company saves time and resources. Instead of navigating the complexities of building an online store from scratch, businesses can rely on the expertise of these companies to handle the technical aspects. This allows business owners to focus on core activities such as marketing, product development, and customer service.
Factors to Consider When Choosing a Shopify Development Company
Before diving into the list of the top 10 Shopify development companies in the USA, it's essential to understand the key factors to consider when making your choice. Firstly, evaluate the company's experience and portfolio. Look for companies that have a track record of successful Shopify projects and have worked with businesses similar to yours. Additionally, consider their expertise in areas such as Shopify web development, Shopify ecommerce development, and Shopify Plus development.
Another crucial factor is the company's reputation and client testimonials. Read reviews and testimonials from their previous clients to gauge their level of customer satisfaction. Moreover, consider the company's pricing structure and ensure it aligns with your budget. Finally, take into account their communication and support channels to ensure a smooth collaboration throughout the development process.
Top 10 Shopify Development Companies in USA
1. Mgroup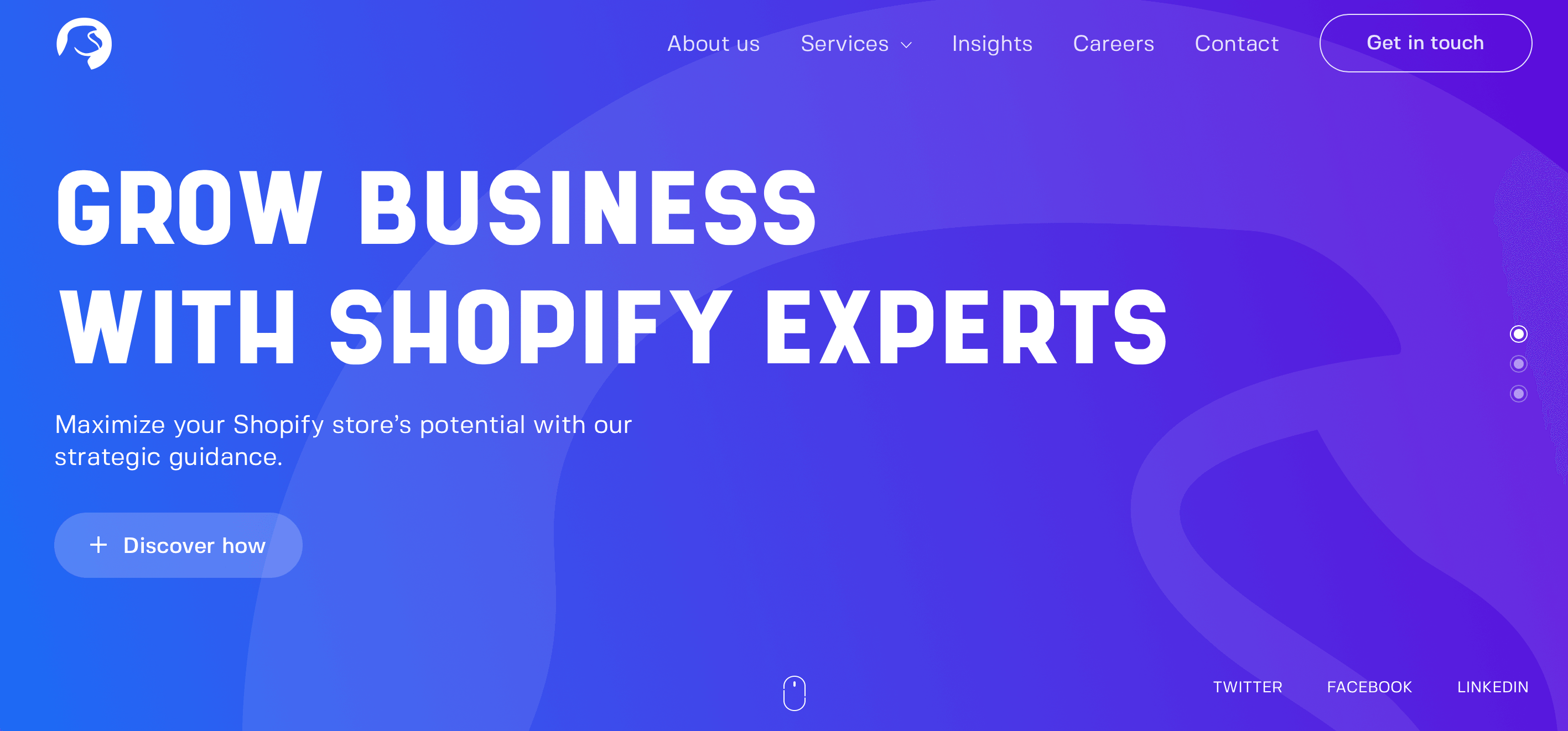 Mgroup comprises a team of officially recognized Shopify professionals, acknowledged on the Shopify Experts platform. They offer an extensive range of full-cycle development services tailored to align with your unique requirements and objectives. From initial setup and customization to continuous maintenance and optimization, their Shopify development services encompass every facet of e-commerce. With their substantial experience in the Shopify domain, their team remains dedicated to staying at the forefront of industry trends and best practices to ensure you maintain a competitive edge.
Key Services:
Development of Shopify Stores and Marketplaces.
Creation of private and public Shopify Applications to address specific business needs and enhance store functionality.
Development or enhancement of Shopify Themes with customized widgets and features.
Integration of Existing Shopify Apps and Third-Party Partners.
Headless Development, employing a Metaobject approach or based on Sanity.
Post-launch support, encompassing CSS and styling modifications, design assistance, and ongoing feature recommendations.
On-Demand Development Service.
eCommerce website optimization.
For over five years, Shopify has been the focal point of their expertise. Mgroup takes pride in a substantial portfolio of successfully executed e-commerce projects, spanning a broad spectrum of complexity levels, ranging from foundational store setups to intricate integrations.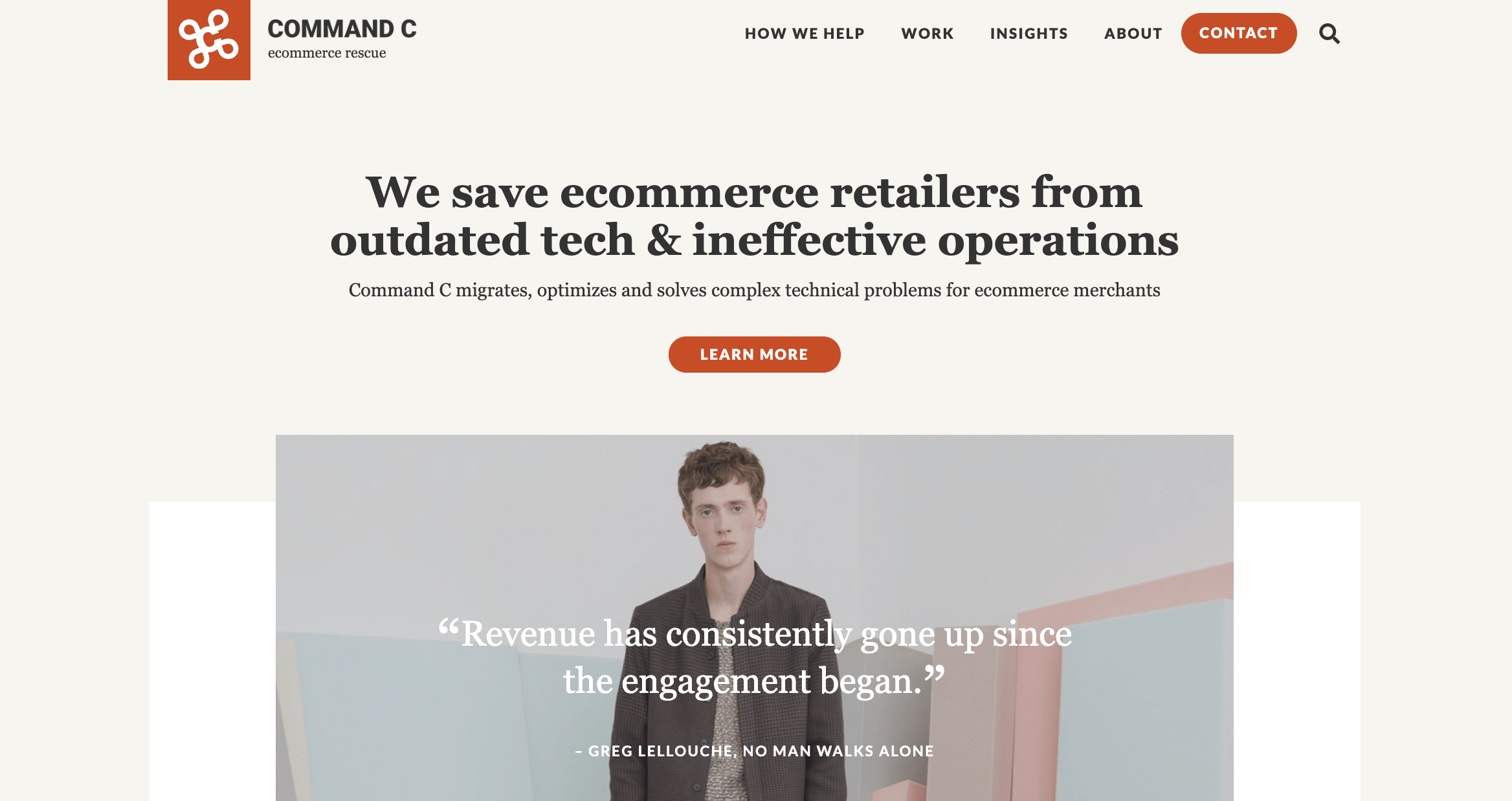 Command C 
Since 2004, Command C has been at the forefront of guiding online retailers in devising strategies, transitioning, constructing, ensuring stability, and fostering the growth of their eCommerce establishments.
Their particular expertise shines when working with both B2C and B2B merchants generating annual revenues ranging from $2 million to $150 million.
The prowess of Command C extends beyond mere development skills; it is their robust project management capabilities that truly distinguish them. Additionally, their proficiency in deciphering technical terminology has been instrumental in fostering enduring client relationships.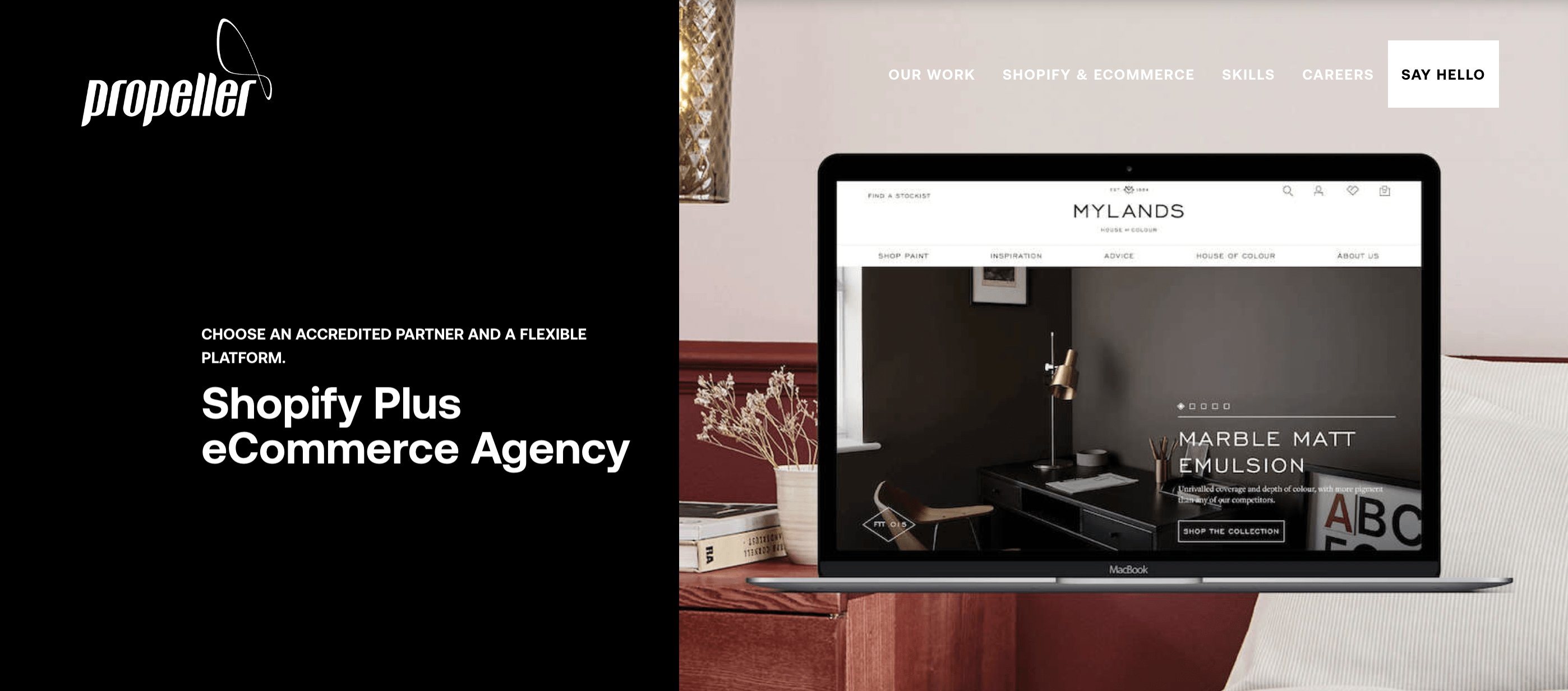 Propeller
Founded two decades ago, Propeller stands as a proficient group of specialists ready to offer strategic and operational assistance. As an all-inclusive marketing agency, Propeller provides an array of services, including website design and development, UX digital strategy, eCommerce solutions, and both organic and paid media services. Their primary aim is to deliver outstanding digital experiences throughout the customer journey, leading to quantifiable achievements.
With offices in London and New York, Propeller's team of digital experts possess deep insights into their respective industries. They function as an extension of your in-house team, supplying strategic guidance, technical expertise, and digital leadership precisely when you need it most.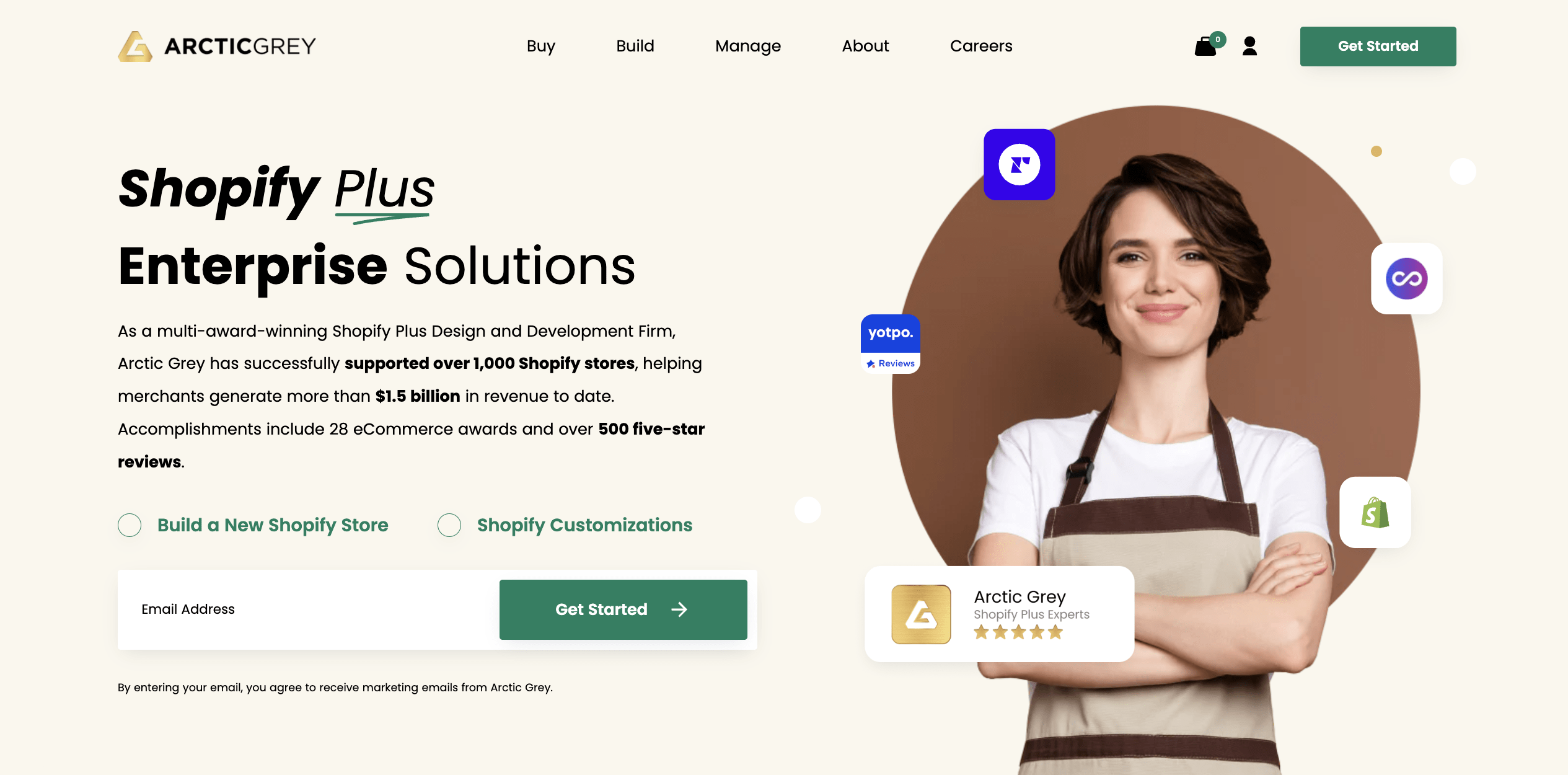 Arctic Grey
Arctic Grey, a Shopify Plus Design and Development Firm, boasts a remarkable track record with numerous awards. They've effectively assisted over 1,000 Shopify stores, contributing to a cumulative revenue surpassing $1.5 billion. Their impressive credentials also feature 28 eCommerce awards and an extensive collection of over 500 five-star reviews.
At Arctic Grey, their expertise lies in expertly harnessing the capabilities of Shopify to craft captivating user experiences and innovative solutions for merchants on a global scale.
Their unwavering dedication is channeled into utilizing Shopify technology for online stores across various niches, including the realms of Fashion and Accessories, Beauty & Skincare, and Jewelry.
Ambaum
Ambaum is a leading shopify development company in USA with a strong presence in the USA. They specialize in Shopify web development, helping businesses create engaging and high-performing online stores. Their team of talented designers and developers work closely with clients to understand their vision and translate it into a captivating Shopify store. Ambaum's emphasis on innovation and creativity sets them apart as one of the best Shopify development companies in the market.
Ambaum adopts a unique, holistic approach that seamlessly integrates design, development, and growth marketing to yield impactful outcomes for your Shopify Plus website. Their methodology combines strategy, programming, platform migrations, custom app development, and continual support, all tailored to enhance the overall customer experience.
Hailing from Seattle, their accomplished team has played a pivotal role in launching numerous new brands and facilitating the smooth transition of established e-commerce businesses to the Shopify Plus platform.
Absolute Web
Absolute Web stands as a comprehensive eCommerce agency, providing a wide spectrum of services.
Specializing in the realm of digital commerce and business solutions, Absolute Web is committed to crafting captivating web experiences and elevating lead generation while ensuring top-notch user interactions. Since 1999, they have been instrumental in helping businesses attain their objectives through the collaborative efforts of their dedicated team of digital strategists, project managers, certified developers, and UI/UX producers.
Their approach revolves around digitally-driven strategies and tactics that seamlessly synchronize marketing campaigns with sales processes, thereby enhancing awareness and interest in a company's products and services. This unique concept brings about an evolution in current practices, yielding accelerated results that significantly impact a company's bottom line.
Avex
Avex stands as a prominent eCommerce agency, dedicated to crafting and enhancing customer experiences for rapidly growing brands. As Shopify Plus Partners, they specialize in the art of designing, constructing, and optimizing exquisite eCommerce websites. Their passion lies in collaborating with merchants to facilitate their expansion through the integration of design, technology, CRO (Conversion Rate Optimization), and email marketing strategies.
Avex is a leading Shopify development company renowned for its proficiency in fashioning visually captivating and user-friendly Shopify stores. Their extensive range of services encompasses Shopify website development, design, and email marketing. What sets Avex apart is its adept team of professionals who stay abreast of the latest industry trends, ensuring the delivery of cutting-edge solutions that drive conversions and foster growth. Their unwavering commitment to precision and excellence renders them a premier choice for businesses aiming to elevate their online presence.
They have established partnerships with direct-to-consumer (DTC) brands across various sectors, including fashion, lifestyle, beauty, and home goods. Among their distinguished clientele are prominent names such as KITH, Hugo Boss, Enjoy Life, Simmons Bedding, Marchesa, Undefeated, and numerous others.
Plug Digital 
Plug Digital is a cutting-edge web development agency, offering a contemporary suite of services. Their dynamic team comprises web developers, designers, graphic artists, UI/UX visionaries, and technology enthusiasts who all share a common mission: crafting and delivering a robust web experience tailored specifically for the world of e-commerce.
Distinguished as a respected Shopify development company, Plug Digital places a strong emphasis on achieving outstanding outcomes. Their core expertise lies in Shopify e-commerce development, aiding businesses in the creation of influential and scalable online stores. Leveraging their profound technical acumen, Plug Digital's team endeavors to conceive and construct Shopify stores that not only captivate users but also drive sales. Furthermore, their all-encompassing support and maintenance services are geared toward ensuring the sustained success of your Shopify store.
Burrel
Barrel is a dynamic digital agency dedicated to guiding brands in navigating, strategizing, and actualizing exceptional customer experiences that yield tangible business outcomes. Our journey began in 2006, and over the years, we've been privileged to collaborate with distinguished clients like L'Oreal, Stanley Black & Decker, Dr. Jart+, and Sakara, empowering them with innovative design and technology solutions to enhance their customer relationships.
With a globally distributed team and our central hub located in the heart of NYC, we take pride in being a minority-owned enterprise.
Fav Solution
At FAV Solution, they constitute a group of adept web developers and marketing enthusiasts who excel in addressing intricate challenges through the implementation of solutions centered on efficiency, business requirements, and customer experience. Their dedicated team is driven by an unwavering commitment to supporting clients in a multitude of areas, encompassing the enhancement and upgrading of existing websites and the creation of brand-new eCommerce designs and developments. Their ultimate objective is to equip their clients for enduring success through the formulation of customized strategies that yield remarkable outcomes.
COST OF SHOPIFY DEVELOPMENT SERVICES
The expenses associated with developing a Shopify store can vary due to several influencing factors, including feature requirements, project complexity, developer location, third-party integrations, and post-deployment support.
OPERATIONAL PROCESSES OF SHOPIFY DEVELOPMENT COMPANIES
Gaining an understanding of the development procedures is advantageous when partnering with a development firm. The primary stages in the Shopify development process for an eCommerce website encompass Business Analysis, Roadmap Creation, Core Development, Evaluation, Site Enhancement, and Launch and Deployment.
ADVANTAGES OF ENGAGING A SHOPIFY DEVELOPMENT COMPANY
Opting for the services of a Shopify development company offers numerous unspoken benefits, including support in Digital Strategy, access to a highly skilled technical team, extensive platform expertise, Quality Assurance, as well as streamlined communication and recognition.
What Do Shopify Company Partners Do?
If you are looking to start an online business or take your existing business to the next level, then you need to consider partnering with a Shopify website development company. These companies are experts in creating and optimizing websites on the Shopify platform, which is one of the most popular and user-friendly e-commerce platforms available today. With their help, you can create a stunning and functional online store that will attract customers and drive sales.
So, what exactly do Shopify company partners do? Well, let me tell you, they do it all! From designing and developing your website to integrating payment gateways and optimizing for search engines, these experts have the skills and knowledge to create a successful online store. They understand the ins and outs of the Shopify platform and can leverage its features and functionalities to build a website that not only looks great but also performs exceptionally well.
One of the key roles of a Shopify company partner is website development. They will work closely with you to understand your business goals, target audience, and brand identity. Based on this information, they will create a customized website design that reflects your unique brand image and captures the attention of your potential customers. They will also ensure that your website is mobile-friendly and responsive, so that it looks great on all devices and provides a seamless user experience.
In addition to website development, Shopify company partners also handle the technical aspects of setting up your online store. They will integrate payment gateways, such as PayPal or Stripe, so that your customers can easily make purchases on your website. They will also set up shipping options, tax calculations, and inventory management systems, to ensure smooth operations for your online business. These experts will make sure that all the necessary features are in place to provide a seamless shopping experience for your customers.
Furthermore, Shopify company partners are also skilled in search engine optimization (SEO). They understand the importance of ranking high on search engine result pages and will optimize your website accordingly. They will conduct keyword research, optimize your website's meta tags and descriptions, create high-quality content, and build backlinks to improve your website's visibility in search engine rankings. By implementing effective SEO strategies, these experts can help drive organic traffic to your online store and increase your chances of making sales.
Overall, partnering with a Shopify website development company is a smart move for any business owner who wants to succeed in the online world. These experts have the knowledge and skills to create a visually appealing and user-friendly website that will attract customers and drive sales. They handle every aspect of building an online store, from design and development to technical setup and optimization. So if you are ready to take your business to new heights, don't hesitate to reach out to a Shopify company partner today!
TOP Shopify DEVELOPERS
Which is a Top Shopify Development Company?
Mgroup enjoys a stellar reputation for delivering tailored website development solutions that align precisely with client needs, incorporating cutting-edge technologies.
How Much Does a Shopify Developer Cost Per Hour?
Typically, these rates can vary, falling within a range of $20 to $100 per hour.
How to Choose Shopify Development Companies?
When it comes to choosing Shopify development companies, the decision should be rooted in considerations of their expertise, experience, skillset, location, pricing, alignment with project requisites, and relevant certifications.
Looking for a proficient Shopify developer?
Skilled professionals can be discovered via social media, listings on websites, the Shopify Experts directory, or by utilizing hiring platforms such as Upwork and Fiverr.
Why Hire a Shopify Developer?
Hiring a Shopify developer, given their extensive familiarity with the platform, can substantially enhance your ability to capitalize on the advantages offered by an online store.
Conclusion
Choosing the right Shopify development company is crucial for businesses looking to establish a strong online presence. The ten companies mentioned in this article have proven their expertise and reliability in delivering outstanding Shopify solutions. Consider your specific requirements, budget, and desired level of support when making your choice. By partnering with one of these top Shopify development companies in the USA, you can unlock the full potential of the Shopify platform and take your e-commerce business to new heights.