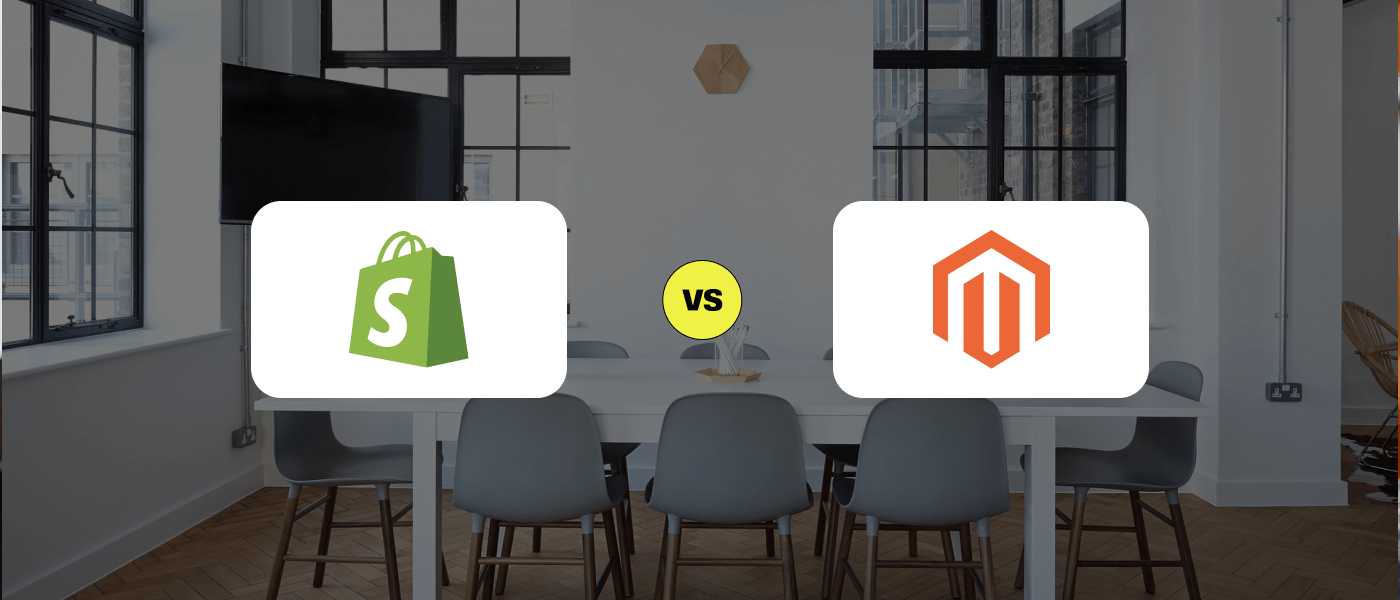 August 17, 2023
Magento vs Shopify 2 Best Ecommerce Platforms
Magento vs Shopify: Which Ecommerce Platforms is Right for You?
Magento and Shopify are two of the most popular ecommerce platforms on the market. Both platforms offer a wide range of features and benefits, but they also have some key differences.
When it comes to launching and growing your e-commerce business, selecting the right platform is crucial. Among the many options available, two of the most popular choices are Magento and Shopify. In this article, we'll delve into the key differences between Magento vs Shopify, helping you make an informed decision for your online store.
In this article, we will compare Magento and Shopify on the following factors:
Features of Ecommerce Platforms
Magento and Shopify both offer a wide range of features, but they have different strengths and weaknesses. Magento is known for its flexibility and scalability, while Shopify is known for its ease of use and user-friendly interface.
Magento offers a wide range of features that are not available on Shopify, such as:
Multi-store support
Advanced marketing tools
Product bundles and options
B2B selling
Advanced shipping and payment options
Shopify also offers a number of features, but it is not as flexible or scalable as Magento. Some of the features that Shopify offers include:
Drag-and-drop website builder
In-built payment processing
App store
24/7 customer support
Pricing
Magento and Shopify have different pricing models. Magento is an open-source platform, which means that you can download and use it for free. However, you will need to pay for hosting, extensions, and other services. Shopify is a hosted platform, which means that you pay a monthly fee for everything you need.
Magento: May involve higher development and maintenance costs.
Shopify: Offers various pricing plans, including a monthly fee.
Ease of use
Magento is a more complex platform than Shopify. It is designed for businesses that need a lot of flexibility and control over their ecommerce website. Shopify is a more user-friendly platform that is designed for businesses that want to get up and running quickly.
Magento: Requires self-hosting, giving you more control over server resources.
Shopify: Hosted platform, relieving you of technical hosting responsibilities.
Customization
Magento is a more customizable platform than Shopify. You can change the look and feel of your website, add new features, and integrate with third-party applications. Shopify is less customizable, but it still offers a number of options for customizing your website.
Magento: Offers extensive customization possibilities, suitable for businesses with unique requirements.
Shopify: Provides customization options through themes and apps, ideal for businesses seeking simplicity.
Scalability
Magento is a more scalable platform than Shopify. It can handle a greater volume of traffic and sales. Shopify is less scalable, but it can still handle a large volume of traffic for small to medium-sized businesses.
Magento: Scales well for larger enterprises with complex needs.
Shopify: Easily scales from small to large businesses.
Security
Both Magento and Shopify are secure platforms. However, Magento is more complex, which means that it is more vulnerable to security attacks. Shopify is less complex, which makes it easier to secure.
Magento Security Features:
Open Source Advantage:

Magento is open source, allowing developers to scrutinize the code for vulnerabilities. This can lead to faster identification and patching of security flaws.

Regular Security Updates:

Magento releases security updates to address identified vulnerabilities promptly. Keeping your Magento installation up to date is crucial for maintaining a secure store.

Security Scanning Tool:

Magento offers a Security Scan Tool to identify potential security risks in your store, including known malware and vulnerabilities.

Two-Factor Authentication (2FA):

Magento supports 2FA, adding an extra layer of security by requiring users to provide a secondary authentication method.

Secure Payment Integration:

Magento supports various secure payment gateways and complies with Payment Card Industry Data Security Standard (PCI DSS) requirements.
Shopify Security Features:
SSL Encryption:

All Shopify stores come with free SSL certificates, ensuring data transmission between the user's browser and the server is encrypted and secure.

PCI DSS Compliance:

Shopify is Level 1 PCI DSS compliant, which means it adheres to strict security standards for processing credit card information.

Regular Security Audits:

Shopify conducts routine security audits and vulnerability assessments to identify and address potential threats.

Fraud Prevention Tools:

Shopify offers tools to help prevent fraudulent transactions, including order risk assessment and automatic fraud analysis.

App Security:

Apps available in the Shopify App Store undergo a review process, and Shopify monitors for any malicious behavior in apps.
Themes and Designs
Magento: Offers a range of customizable themes but may require more design expertise.
Shopify: Provides a variety of user-friendly themes for easy customization.
Customer support
Both Magento and Shopify offer customer support. Magento offers 24/7 support, while Shopify offers support during business hours. Magento's support is known for being more technical, while Shopify's support is known for being more user-friendly.
Magento: Support Portal, community forums, documentation.
Shopify: 24/7 customer support, community forums, Shopify experts, documentation.
Which platform is right for you?
Choose Magento If: You're a larger enterprise or have complex needs, and you require extensive customization options. You're willing to invest in technical expertise and resources for setup and maintenance.

Choose Shopify If: You're a small to medium-sized business looking for a straightforward and user-friendly platform. You value ease of use and want to quickly get your online store up and running.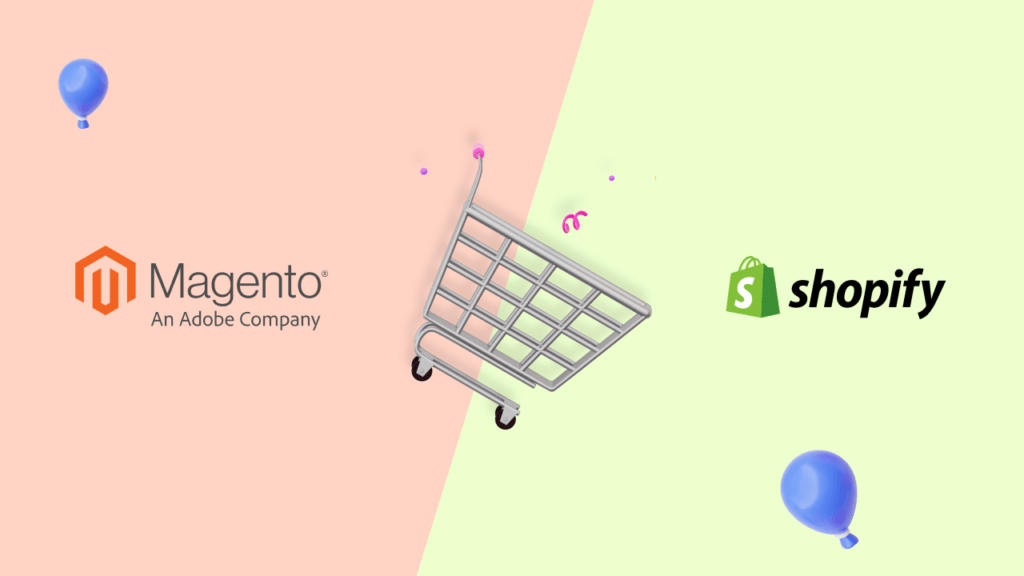 The best ecommerce platform for you will depend on your specific needs and requirements. If you need a flexible and scalable platform with a lot of features, then Magento is a good option. If you are looking for a user-friendly platform that is easy to get up and running, then Shopify is a good option.
Here is a table that summarizes the key differences between Magento and Shopify: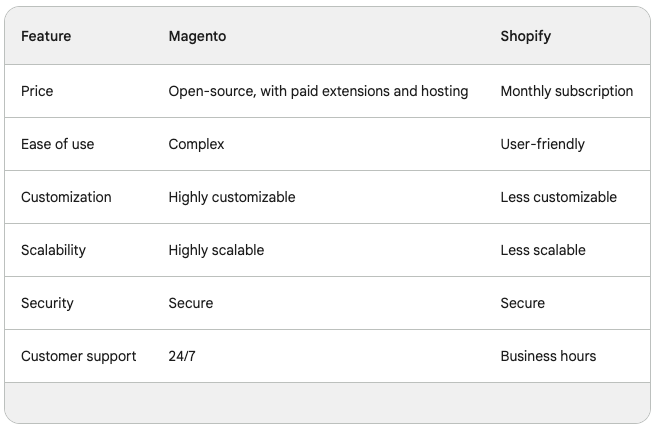 Both Magento and Shopify have their strengths, catering to different business needs and preferences. Your choice should be based on factors such as your business size, technical proficiency, customization requirements, and budget. Evaluate the features, benefits, and drawbacks of each platform to ensure your e-commerce journey is smooth and successful.
Remember, whether you opt for Magento's power or Shopify's simplicity, your success ultimately depends on your product offerings, marketing strategies, and dedication to providing an exceptional online shopping experience.
I hope this article has helped you to compare Magento and Shopify and to decide which platform is right for you. If you have any further questions, please feel free to contact me.